Frequently asked questions
How do I wear my sensors?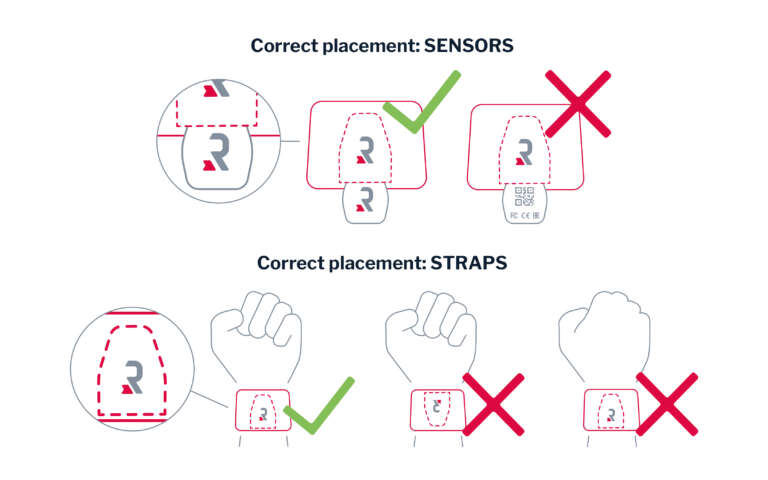 The supplied straps have a small pocket for the sensors. Put the sensors in the pockets with the ROOQ Logo facing up and the QR Code facing down. Place the sensor pockets on the straps on the inside of your wrists, so that you can read the ROOQ Logo.
How do I know which sensor to wear on which hand?
Your sensors are smart and detect automatically on which hand they are located. There's no right or left here.
How big and heavy are the sensors?
Every sensor weighs 12 grams, is 4.2 cm high, 3.2 cm wide and 9 mm thick.
Can I wear my ROOQs under normal boxing bandages?
Yes. However, you should still use the ROOQ straps so that the sensors are in the right place and the recording is error-free. Of course, you can also wrap your own bandages over them.
Can I wear my sensors underneath my boxing gloves?
Of course! The ROOQs were specially developed for use in boxing.
Can I also wear the ROOQs in sparring?
Can I wash my ROOQs?
Your sensors are resistant to splashing water. This means you can hold them under running water or wipe them with a wet cloth. This will not affect the function of the sensors.
How do I wash my straps?
Your straps should be washed at 40 degrees maximum. Hand washing is better.
How can I dry my sensors if they get wet?
It's easy. Just take a lint-free cloth and wipe over your sensors.
I lost my straps. Can I buy new ones?
Can I also buy a charging case?
Please contact our support and we will help you: support@rooq.de
Can I use my ROOQs internationally?
Yes, you can. The location of your training is completely independent and freely selectable. In order to evaluate your data you only need an internet connection.
Can I lend or give my sensors to someone else?
The sensors are linked to a user account. In other words, you can link them to a ROOQ app profile and use them for that app account whenever you want.
Important note: If you want to lend out your sensors, you have to disconnect yourself from your account. Only after this step can another athlete link them to their own account. We recommend that you do not share your ROOQs. If several athletes train with the same profile, the data will be skewed as, among other things, the individual weight of athletes is taken into account.
Can the ROOQs also detect kicks?
Not yet but we are always working on further developments of our technology.
How do I connect my sensors with the ROOQ App?
You can connect the sensors via bluetooth by using the ROOQ app on your smartphone.
How does data get from my sensors to the app?
Your ROOQs send all recorded data via Bluetooth in encrypted form to your app on your smartphone.
What happens to my data if I don't have an internet connection right after I finished my training?
The collected data is backed up on your smartphone even without an Internet connection. However, for your evaluation an internet connection is necessary.
Where can I see my data?
You can see and manage your data through your App. And that is top secret. Only you can do that.
Will there be regular updates?
There will be regular updates for the app which will also automatically install updates to your sensors.
What is the price of the ROOQ App?
The app is free of charge. Just go to your app store and search for ROOQ.
How do I link my coach/club with my data?
If your coach/club is already registered in our coaching zone you can simply search for him/her in your app. Once you send him a connect request he can accept and you're connected.
Does ROOQ work as a coach or how can I improve my skills with ROOQ?
Your sensors detect your performance data and your app shows you how you really train, but none of this replaces your coach. ROOQ visualizes your results and progress so that your training can be optimized in a way that wasn't possible until now.
Does my trainer see all my data?
You as an athlete decide which data your coach can have access to.
Can my coach still see my data after I stopped the relationship?
As soon as you stop sharing your data, it can no longer be viewed by anyone else.
My training today felt much more intense than last week but why is the score from this training lower than last week?
The ROOQ Score doesn't necessarily tell anything about the intensity of your training. It calculates the relevant data for boxing and uses them to determine the score. So there is a difference between 2 hours of pure strength training and 2 hours of different punch combinations followed by sparring.
What exactly is the ROOQ output in the punch score?
Great question! We calculate the physical momentum, also called "force". We are able to do it since we calculate the speed of all your punches. The rest is ROOQ magic. We deliberately chose the momentum because we focus on the athlete's performance which matters. This is more representative than softness or hardness of the target being hit.
How can I punch faster? Are there any recommended training programs?
Your coach is the one to determine that! The Coaching Zone gives him/her a holistic data driven view of your training. Simply work as a team to optimize your training results. More informations here.
Is it possible for beginners to train with ROOQ?
Of course it is. It doesn't matter if you are a beginner or a professional. Everyone benefits from their ROOQ training data.
Can I use my ROOQs internationally?
Yes, you can. You can freely choose where and when to train. Anywhere, anytime. In order to evaluate yor data you only need an internet connection.
Why does ROOQ need my data regarding my age, weight and height?
OOur calculations are based on individual information about your body (weight, height, age..) so that data is meaningful to your specific person and it provides you with real results that you can use to improve.
Is there an app for the Coaching Zone?
Our Coaching Zone is an online portal where every coach (after an athlete´s approval) can view the training performance of his athletes. An innovative overview and everything in one place!
How many athletes can I connect with?
In the ROOQ Coaching Zone, you do not actively add athletes. Your athletes share their recorded training values with you so that you can subscribe to this data. In total, it is possible to connect with up to 150 athletes in this way.
What data can I compare?
The Coaching Zone offers you a complete overview of your athelete´s development. You have access to almost all the data that is also available in the app for athletes. Now you can train your athletes in an even more targeted way. You can find more information here.
How much does the Coaching Zone cost?
Create individual training plans, coach your athletes in a more targeted way and enable their individual development – this is the boxing training of the future and you can be part of it! For a monthly fee of 9,99 € you can view the data of this certain athlete. For groups up to ten athletes, the price is even lower.
How can I cancel my Coaching Zone subscription?
The subscription can be canceled monthly.
Can I test the Coaching Zone in advance?
We are currently woriking on this. You will find more info about it on our website.
Can my athletes communicate with me through the app /Coaching Zone?
Yes, and this makes the Coaching Zone so valuable for your athletes and for you. Athletes can share their training results with their coaches regardless of time and place and give feedback into what they have achieved.
What period of time can I compare?
There are no restrictions concerning the periods you want to compare. You can access all training sessions of your subscribed athletes and get a complete overview.
Are we planning new features for the future?
At ROOQ, we embrace progress. We are already working on new and unique features so your training analysis is recorded with even more details.
What are the advantages of the Coaching Zone?
Overview, analysis and control – the Coaching Zone offers you all this and much more. With our visionary online portal, you can track the performance of your athletes at any time, give detailed feedback and create individual training plans. No matter when and where. The perfect basis to make the best out of your athletes´performance. Do you want to know more about the Coaching Zone? Then have a look at our website.
Can I use the mobile version of the Coaching Zone?
Yes, the Coaching Zone can also be opened on your mobile phone. However, we recommend you to use our online portal via tablet or computer.
Can I change the number of subscribed athletes afterwards?
Yes, you can change the number of athletes you have subscribed to at any time.
Why should I create a club?
You can also use the Coaching Zone on behalf of a club and subscribe to athletes. This way, all coaches of the club who also use the Coaching Zone will automatically have access to the training data of these athletes.
How many athletes can I compare with each other?
In the Coaching Zone you can compare the training data of up to three athletes at the same time.
Do I receive training session data every time my athlete trains?
The subscribed athletes decide which training data they share with you. Athletes can set the Coaching Zone up so that the coach receives data from each training session.
How do I find my athletes?
You can easily find your athletes in the Coaching Zone in the "My athletes" area using the search field created there. Just enter the name of your athlete there.
Do I lose my athletes' data when I cancel the subscription?
No, the data remains stored. Exception: if your athlete deletes his account, then you will no longer have access to his training data.
Are there any terms and conditions for returning goods?
All products from our ROOQ online shop, can be returned within 30 days after receiving the goods. You don´t have to explain the reason but it would help us to improve our service. Please have in mind that, according to our terms and conditions products needs to be in its original packaging and must contain all the delivered items. The invoice is also required so we can track the purchase.
How does the return work inside EU?
Using your TrackingID, you can easily download and print out a return label for return shipments on the UPS website. You can find all the information you need in our returns guide. If you have any questions, please contact the ROOQ Support Team through the contact form.
How does the return work outside EU?
Please contact support@rooq.de
How long do I have for a return?
You can return the product to UPS within 30 days of receiving it. For this purpose, please contact support@rooq.de If the 30 days are up but the product is still defective, please also contact the ROOQ Support Team support@rooq.de
Will also shipping cost be refunded?
If you return the ROOQ BOX within 30 days after receiving the goods, the shipping cost will be refunded as well. If you ordered via express, we will refund you the cheapest option (for some countries it could be the standard or the express).
When and how do I receive my refund in case of cancellation?
You will receive your money back in the same way you made your payment. This will happen as soon as the ROOQ BOX is in our headquarter If you have not received a refund, please contact the ROOQ Support Team support@rooq.de
Can I return my order in a store?
So far we are selling online. Please also use the online steps to ship back our product.
Who can I contact for questions about my invoice?
Is it possible to receive a VAT invoice?
Yes, within the EU an invoice with VAT will be issued.
Was my order successful?
You will receive a confirmation mail as soon as we received your order. You should also check your spam folder just in case.
Which Emails do I receive after my purchase?
You should receive the following: 1. Confirmation Mail 2. Invoice Mail 3. Shipping Mail with Tracking-Link.
How can I check the status of my order?
As soon as your order is shipped you will receive a shipping confirmation including the tracking ID via mail. By clicking on the link you can locate your order.
Where do I find my order number?
You can find your order number in your confirmation email, which you will receive a few minutes after your order.
Can I still change or cancel my order?
As long as the payment process hasn't been completed you can change and cancel. As soon as the order is placed it's no longer possible to cancel or change anything.
Where does ROOQ deliver to?
What carrier delivers the package?
UPS and DHL deliver our ROOQ experience into the world.
What delivery options are available and how much do they cost?
You have the choice between UPS standard and UPS express service. If you cannot wait to get your ROOQ experience take UPS Express. You can check your delivery rates in the checkout process.
My ROOQ Box has not arrived yet. What can I do?
Simply contact our support team (support@rooq.de) and together we will find a suitable solution.
Can my billing address and my delivery address differ?
Yes, your delivery address can be different from your billing address and is not bound to a specific country.
Is there an user manual?
Yes, of course! A Quick-Guide is included.
Is my data secure?
Data security is the most important thing for us. All data is transmitted in an encrypted form. Data storage and data processing are carried out on high-security servers and in accordance with the DSGVO.
Does my trainer see all my data?
As an athlete, you decide what data your coach receives.
Can my coach still see my data after I stopped the relationship?
As soon as you stop sharing your data it can no longer be viewed by anyone else.
Why does ROOQ need my data regarding my age, weight and height?
Our calculations are based on individual information about your body (weight, height, age..). That data is meaningful to your specific person and it provides you with real results for improvement.
Not found the right answer in our FAQ's?
Don't hesitate to contact us.