Shipping Policy
Processing time
All orders are processed within 1 to 2 business days (excluding weekends and holidays) after receiving your order confirmation email. You will receive another notification when your order has been shipped.
Shipping rates & delivery times
Shipping with UPS is free of charge worldwide.
We guarantee to provide you with the best possible shipping option.
Possible customs duties on import, or similar costs are not covered. These may be incurred, for example, for deliveries outside of Europe.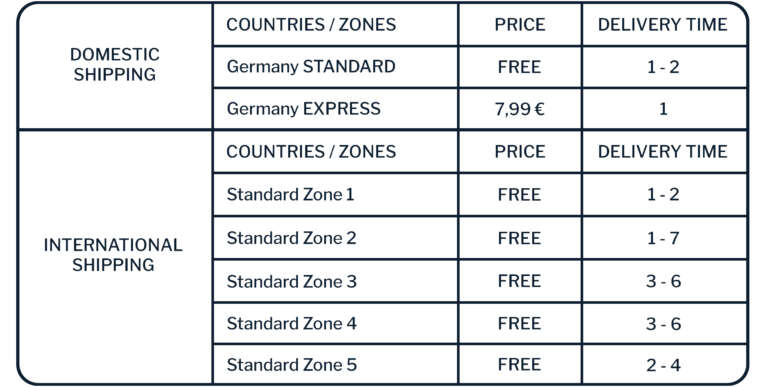 Standard Zone 1: Andorra, Austria, Belgium, Bulgaria, Croatia, Czech Republic, Denmark, Estland, Finland, France, Greece, Hungary, Ireland, Italy, Latvia, Lichtenstein, Lituauen, Luxembourg, Monaco, Netherlands, Norway, Poland, Portugal, Romania, San Marino, Slovakia, Slovenia, Spanien, Sweden, Switzerland, United Kingdom, Guernsey, Jersey
Standard Zone 2: Russia, Albania, Armenia, Azerbaijan, Belarus, Bosnia-Herzegovina, Georgia, Gibraltar, Iceland, Kazakhstan, Kosovo, Kyrgyzstan, Moldova, Montenegro, Macedonia, Faroe Islands, Greenland, Turkey
Standard Zone 3: Mexico, Puerto Rico
Standard Zone 4: Argentina, Australia, Brazil, Colombia, Chile, Costa Rica, Ecuador, Honduras, India, New Zealand, Peru, Thailand, UAE, Uruguay, Venezuela, Guatemala
Standard Zone 5: Canada, USA
Due to COVID-19, please allow us to take some additional processing time. The health of our external partners and our own employees is always our top priority.
Delivery times are calculated in business days only.
All packages are insured.
All shipping costs listed apply only to the purchase of a single item.
Multiple items may require new shipping calculations.
How to check for my order?
When your ROOQs are on their way, you will be informed via mail. You will find a tracking link, to check how close your ROOQs are.